In the News
---



(Click the picture or read below)
ArtScene
Sculpture Safari
Alan Hamwi's monumental creations can be seen throughout Columbus
By: Garth Bishop
Have you ever found yourself face to face with a menacing tiger at the Columbus Zoo and Aquarium? Or Columbus baseball legend Harold Cooper? If so, you might have met one of local artist Alan Hamwi's creations.
Hamwi, an Upper Arlington resident, specializes in sculpture – bronze, clay, stone, welded steel and mixed media, in both maquette and monumental scale. Many of his sculptures depict animals, though he also builds abstracts and figuratives. His interest in sculpture originated from a trip to Florence, Italy, when he was 12. Hamwi's mother took him to see some of the most striking art in the area, and it stuck with him, leading to his focus on classical work.
Though his background is based thoroughly in sculpture study, Hamwi spent 12 years in another line of work, serving as a firefighter and paramedic first for Huber Heights and then for Columbus. He has been focusing on his art full-time since 1996.
Hamwi's animal sculptures include gorillas, a tiger, a hammerhead shark, an orangutan and a warthog family, and a few of them are on display at the zoo. He's also responsible for the bronze statue of Cooper – who
passed away last year and is known for preserving baseball in Columbus in the 1950s – that greets visitors as they enter Huntington Park, as well as a piece at Aquatic Adventures in Hilliard and commissioned work throughout the U.S.
His style is based in representation and visual cues that are familiar to viewers, Hamwi says, though his pieces also can have behavioral, psychological and spiritual aspects. He spends a lot of time studying animal appearances and movements to make sure he can capture them.
"Resonance is an important quality for me," he says. "There's a little more going on than just trying to represent an animal."
A good example of other factors at work is Unlikely Friends, which depicts a gorilla playing with a bird.
"(You can see) his expression, his ease and his involvement with … that oxymoron of being very large and cumbersome, and being very gentle and playing with the bird," Hamwi says.
Garth Bishop is editor of CityScene Magazine.
---
---
Sculptor Alan Hamwi at the 2009 North Shore Festival of Art
July 21, 2010
Last year, Sculptor Alan Hamwi was named Best in Show at the 2009 North Shore Festival of Art. On YouTube, view SkokieNet's interview with the artist about his work (click the photo). Will Hamwi "do it again" and win Best in Show once again? Find out who will win at the 2010 festival this weekend, July 24th and July 25th at the Old Orchard Shopping Center.
May 22, 2010


Close-up of a bronze sclupture titled, "On the Edge" by artist, Alan Hamwi of Columbus Ohio, at the annual Outdoor Crafts Festival at the Bruce Museu, Greenwich, May 22, 2010.
Photo: Bob Luckey / Stamford Advocate

Click the picture
---
35th Annual Mainsail Arts Festival
April 17th - 18th 2010
Vinoy Park, Bayshore Drive & 7th Ave. N.E.
St. Petersburg, Florida
Alan Hamwi - Award of Distinction for Sculpture
---
March 27, 2010
Naples Daily News
Alan Hamwi a sculptor from Columbus Ohio works on one of
his pieces at the 22nd Annual Downtown Naples Festival of
the Arts, a juried festival features 250 fine artists working
in all media, from paintings to jewelry, from clay and
sculpture to glass and furniture.
Click the picture to follow the link...
---
March, 16 2010
Animal theme inspires art
in new exhibit
Published: Tuesday, March 16, 2010 1:35 PM EDT
High Road Gallery will present works by Ohio artists in "Tamed and Untamed: All God's Creatures," running from March 31 to April 24 in the Historic Register Buttles-Brown house in downtown Worthington.

With sculptor Alan Hamwi as chairman, the show will feature art in variety of media, contributed by those who responded to the open call on the theme, wild and tame animals. In addition to painting, pencil, photos and collage, there are purses, scarves, felted animals and sculpture with animal subjects.

An artist's reception is set for 7 to 9:30 p.m. April 3. The public is invited to meet the artists, and enjoy food and drinks. Awards will be given to winners chosen by a judge.

Gallery hours are noon to 4 p.m. Wednesday through Saturday.
For more information call 614-781-6454 or visit highroadgallery.org after March 30.
---

Alan Hamwi announces the completion of "Seadevil". The one-of-a-kind angler fish combines carved soap stone, tooled bronze and a hand-fashioned cocobolo wood base. The piece was well received in the Chicago area helping Hamwi earn a "Best-of-Show" award.
---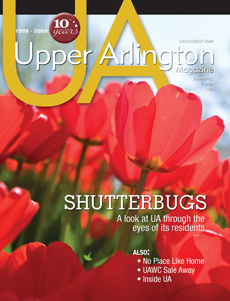 July 2009
Profile: Alan Hamwi
Sculpture a lifelong endeavor for UA resident
Call it fate, or happenstance or just a lucky coincidence.

However you describe it, something clicked for UA native and current
resident Alan Hamwi when, at 12 years old, his eyes fell upon the classic
art and sculpture of Europe on a family vacation. He drank in the classic
forms, the graceful lines of famous figures, and knew his life would never
be the same.

Quite simply, Hamwi fell in love with art. Four decades later, their love affair has yet to wane.

At age 52, Hamwi is an accomplished sculptor. His work is enjoyed by the public and by private collectors around the country, and it also graces several Central Ohio landmarks. At the Columbus Zoo and Aquarium and the new Huntington Park baseball field, visitors touch, sit on and crawl over Hamwi's creations, from a to-scale statue of Colo the gorilla to a supersized baseball, bat and glove.

While a sports-themed sculpture differs greatly in style from Renaissance artistry, Hamwi credits his first trip across the Atlantic – specifically, his visit to Italy – as the spark that lit the flame.

"My mother was an art history major and one of the original docents at the Columbus Museum of Art," he says. "She took me on that trip to Europe, and I was exposed to sculptures all over Florence. (I saw) Perseus (by Benvenuto Cellini), and also (Michelangelo's) David, of course. It was pretty amazing."

Hamwi made sculpture his first priority in school. He attended Antioch University in Yellow Springs, where he majored in sculpture. He continued his artistic education at various institutions, including the California College of Arts and Crafts in Oakland, Calif., the Aegean Center for the Fine Arts in Paros, Greece, Wright State University in Dayton, Columbus College of Art and Design and The Ohio State University.

As he continued to study and practice, Hamwi says financial success wasn't always guaranteed as an artist. To provide for his family – he has a son, 29-year-old Kristopher, and a daughter, 23-year-old Elizabeth – he worked full time as a firefighter, first for the City of Huber Heights near Dayton and later for the Columbus Division of Fire.

When he wasn't putting out blazes, he burned through projects in his home studio. While he has worked in a variety of media, Hamwi says he is most fond of bronze casting. The process entails first creating a sculpture in clay, then making a rubber mold from the clay sculpture. The mold is sent to a foundry, which casts the form into bronze.

Eventually, Hamwi gave up his firefighting career in the mid 1990s to pursue art full time. He still works out of his home studio, and partner and manager Connie Michalec helps run the business. Working with bronze has led to many large commissioned pieces, he says, such as the zoo and ballpark pieces. Hamwi also crafted an 8-foot manta ray statue for Aquatic Adventures in Hilliard and has several pieces on display at the New Albany Public Library.

Though these patrons hire him with a specific sculpture in mind, the projects require plenty of creativity, Hamwi says. The challenge becomes making a piece user-friendly as well as visually appealing.

"The creative part for me in larger commissions is making a piece that draws in the audience," he says. "Because they are site-specific, I try to use the space to make (the sculpture) as friendly for people to approach as possible. I make sure there aren't places to get caught on it and that there are different ways to approach it. It has to be accessible from 360 degrees and fun from every direction."

Judging by the public's reaction to Hamwi's work, it appears he has succeeded. Hamwi says he often receives letters complimenting him on a job well done. He's also seen the public's responses himself.

"Some of the patrons who have sponsored some of the sculptures at the zoo write me wonderful personal letters saying they've gone to the zoo and watched how kids react," he says. "That's really very rewarding for me. I went to a Clippers game the other night and watched people crawl over the bat, ball and glove. There were a lot of photos taken. It's rewarding to know the pieces are enjoyed and appreciated and not cloistered away somewhere."

Even as Hamwi enjoys the success of his bronze work, he continues seeking new media with which to experiment. Recently the 3-D artist has developed an interest in print making, which would provide a reprieve from the physically-challenging world of sculpture. He also likes to play with combined media, such as incorporating glasswork into his bronze sculptures.

"I enjoy playing with a different medium and seeing where it goes," Hamwi says. "I choose the medium to fit the piece rather than being stuck with the way I have been working. I like to experiment and push the realms of what I do. It's still the same basic philosophy behind the work – interaction, either intellectually or physically, with the patron."

What destiny has in store for the prolific artist is a mystery. Hamwi does, however, know one thing: he won't be quitting art any time soon.

"It's just the way I think," he says. "It isn't like I punch a clock in the morning and then at the end of the day I punch out. I'll be sitting around or driving and have an idea and sketch it and throw it in a folder somewhere. I'm constantly evolving and changing and thinking. It's a way of life."

Kate Lohnes is assistant editor of Upper Arlington Magazine.
---
July 2009
Alan Hamwi awarded
"Best of Show"
North Shore Festival of Art
"Explore Art Block By Block" a Resounding Success!
Sculptor Alan Hamwi named Best of Show among the more than one hundred artists featured in the two day festival.

_____________________________________________________________________________________________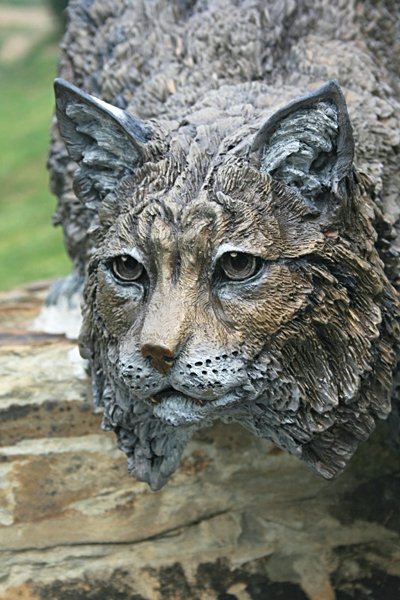 March 2009
UC Merced
Alan Hamwi's sculpture "On Edge" is installed at UC Merced.
The life size cast bronze bobcat is a gift from the Class of 2007.
Click the pictures for more information about the piece!
---
APRIL 2009
(614) MAGAZINE
Breaking the Mold
Hamwi's artworks have filled his home, migrated over the grass, and are even popping out of the landscaping. His partner and manager, Connie Michalec, 49, commented on Hamwi's varied and vast collection, asking, "How do you have a niche when your head is exploding with ideas?" Hamwi agreed. "It's just a crazy world in there," he said, and he wasn't talking about his lawn.

Click the picture for the full article...
---
May 2008
THE COLUMBUS DISPATCH
Huntington Park
Harold Cooper, right, learns a statue of himself will be at the entrance of Huntington Park, as Clippers GM Ken Schnacke and Commissioners Paula Brooks, center, and Marilyn Brown show him the miniature version yesterday.

Alan Hamwi of Upper Arlington, provided the maquette version of his soon-to-be monumental sculpture.
Click the picture for the full article....